With the school year wrapping up, it has been wonderful as Director of Music at Mount Waverley Secondary College to reflect on all of the great musical achievements that have occurred throughout the year, despite COVID-19. Through remote learning, our instrumental students continued to improve and strive for excellence on their chosen instrument. Through opportunities such as recording sessions, and online rehearsals, students mastered some new music specific ICT skills. Many families have contacted me after experiencing music lessons first hand due to learning taking place at home. Many were impressed with the quality of the education provided despite remote teaching and the inspiration it gave students so continue to practice and master their instruments.
The end of the year has been a busy time re enrolling students. Currently the violin, viola,cello, double bass, guitar and bass guitar are completely full. However, we still have some positions for lessons in 2021 in the following instruments:
Clarinet
Saxophone
Trumpet
Trombone
French Horn
Euphonium
Tuba
Vocals
Drums/Percussion
If your student is interested in taking lessons on one of these instruments in 2021 from our quality music staff, please take the time to explore our new MWSC Music Website: https://sites.google.com/view/mwscmusic
This website includes instrument demonstrations, advice on instruments, and the enrolment forms and much more. Any completed enrollment forms need to be returned via email to mca@mwsc.vic.edu.au
On a final note, I would like to personally thank the entire music community at the college for the support and resilience shown in a tough year. The music faculty is looking forward to starting ensembles early in Term 1 and moving forward to some exciting musical events we have planned for the new year.
Congratulations to the following students who have successfully completed an interview to be invited to join the 2021 Music Leadership Team.   I look forward to working with you.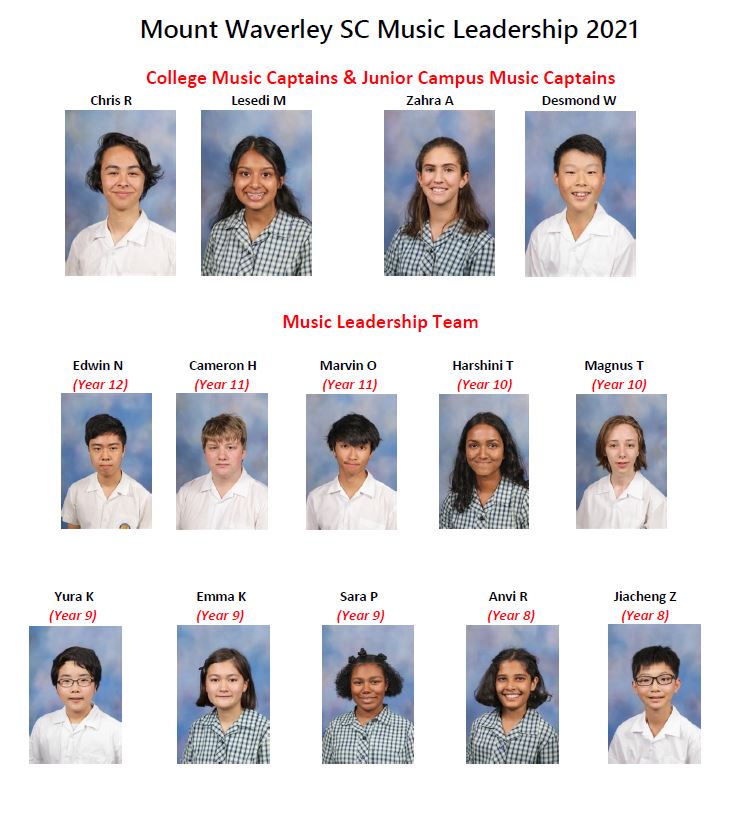 Mrs Tijtje Keatley
Music Director