Welcome Back!
It was wonderful to see all students return to the college last Monday. I know it hasn't been easy for our students and staff but I must congratulate everyone on their efforts in transitioning back from remote learning.
Macey our school therapy dog has been welcoming our students back onsite and keeping me company in my office.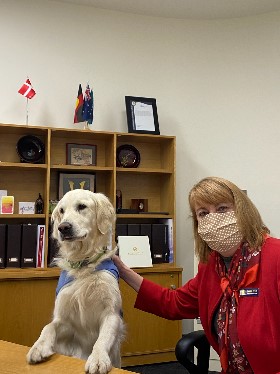 Year 12 Celebrations
I am so proud of our Year 12 students whose behaviour has been exemplary as they competed their final classes for the year. Last Tuesday they were able to take photos in front of 2020 balloon displays and watch a Year 12 video in class that was made by the students. On Wednesday they finished their last day with an outdoor Celebration Picnic on the basketball courts. Students were socially distanced and listened to some speeches before receiving their Graduation packs. The packs included a certificate, ticket and program for their Virtual Graduation Ceremony and a beautiful graduation photo which was taken by one of our teachers Mr Bill Thomas who is also a professional photographer.
Our first ever Virtual Graduation Ceremony was held last Wednesday night and it was a great success. Thank you to one of our past students Ethan Bibile who helped video different sections of the event and congratulations to Ms Lisa McKiernan Head of Senior School and her team for the countless hours that went into organising this event. I would also like to thank our College Council who helped fund these end of year events this year.
World Teachers' Day
Last Friday we celebrated World Teachers' Day at Mount Waverley Secondary College. I would like to congratulate all of our teachers who have done an incredible job this year under challenging circumstances. The way they have moved from onsite learning to remote learning and back again has been incredible to watch and I have no doubt that the quality of remote learning that your children have received was some of the best in the state.
End of Year Examinations
End of Year examination dates are as follows:
Year 12 VCAA examinations start 9 November and conclude 2 December
Year 11 examinations commence Monday 9 November and conclude Thursday 26 November
Year 10 examinations start Monday 16 November and conclude Thursday 26 November
Year 9 examinations start Monday 23 November and conclude Thursday 26 November
Correction day will be held on Friday 27 November and is a student free day
Our 2021 students then begin their Early Commencement classes which run from Monday 30th November- Friday 4th December for 2021 VCE students and Monday 30th November – Friday 11th December for 2021 Year 8-10 students.
COVID Safety Tips
It is still extremely important that our learning community continues to stay COVID safe as we navigate our way through this pandemic. Last Thursday we were visited by a Worksafe Inspector who reviewed our COVID Safety plan. I am pleased to inform you that they were very pleased with our processes and plans. Can I once again remind parents/carers and students of our four safety tips.
Parking in and around the College
The car parks on both campuses are for staff only.  Staff carparks should not be used for dropping off or picking up students as this creates a safety issues for both staff and students.  Students should be dropped off and picked up in adjacent side streets near both the Junior and Senior Campuses.  When parking near the college it is important that parking signs are observed and we ask that you respect our local residents by not blocking their driveways as you drop off or pick up your children.
 Student Safety
With the recommencement of on-site learning it is timely to remind all members of our college community to observe all road laws.  In particular, cyclists must wear helmets and when students are crossing roads, it needs to be done with care and observing traffic signals and the crossing supervisor if present.  Please discuss this with your son/daughter and emphasise the need to follow correct road safety practices to keep everyone safe.
Ritchies Community Benefit Program
Ritchies has been a great supporter of our college over many years. The Community Benefit Program will transition to a new Ritchies Card App available from any App store or Google Play. Please download the App or apply on line at www.ritchies.com.au/loyalty and then choose Mount Waverley Secondary School as the school you would like to support. Ritchies "where the community benefits".
2020 Second Hand Book and Uniform Sale
Further guidance is required from the Department of Education and Training before we can organise the 2020 Second Hand Book and Uniform Sale at the end of this year. Further details will be forthcoming via a Compass notification.
2020 Presentation Night
As Year 12 results are not released until Wednesday 30  December this year, our 2020 Presentation Night will be postponed until Term 1 2021 to enable us to recognise our Year 12 award winners and College Dux. Further details regarding this event will be released at the start of next year.
Mrs Karen Wade
College Principal