Welcome back to the Junior Campus for another exciting year. I would particularly like to welcome our Year 7 students and their families as they start their journey at the college, along with all new students who have commenced.
Our Year 7 students' first two days at the college involved a specially designed program to help them get a feel for the college. This built on the transition program which commenced last year and provided a great opportunity for students to get to know their new school, new class mates and teachers including their Home Group teacher. Our Year 8 students arrived for a special program on their first day designed around the themes of 'Resilience and Challenge'. The feedback on the start of the year from students, parents and staff has been very positive.
College Values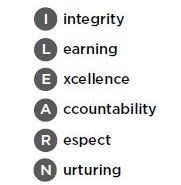 Our College Values are extremely important in providing guidance as to how we act and demonstrate these in our behaviours and learnings each day. It is something that resonates with me in my reflections as to how I am role modelling these to members of our college community. I encourage you to also reflect on how you are demonstrating these values and what they look like in action.
Junior School Leadership Team
The Junior School Team are here to help support our Year 7 and 8 students both inside and outside the classroom. Along with our Home Group and classroom teachers, they can be contacted if you need assistance. The team is:
Head of Junior School – Mr John Simon
Junior School Leader – Ms Lauren Kelly
Student Welfare Coordinator, Junior Campus – Mrs Danielle Mott
Year 7 Coordinators – Ms Samantha Cody and Ms Rachael McCracken
Year 8 Coordinators – Ms Jo Rogers and Mr Mark Quiambao
Student Activities – Ms Sarah Smith
Student Planners
All Year 7 and 8 students received their planners which are a valuable tool to support their learning. Students should record homework and upcoming events to assist with time management and organisation. The planner also contains many worthwhile 'Resilience Project' resources and parents are encouraged to check it weekly and discuss the successes that week.
Junior School Information Evenings
During Term 1 we hold information evenings for parents/carers to outline the programs and expectations for each year level.
Our first evening for Year 7 was held on Tuesday 5 February which was well supported with a large number in attendance. We started the evening with a Welcome BBQ which was a chance for parents and carers to meet other parents and staff. A large number of our Senior and Junior Senior Leaders were also present to welcome families. Following this, we held an information session in the Hall with presentations from key staff to outline more about our excellent college and key themes and events that will run throughout the year. Parents then met with their child's Home Group teacher who covered a range of topics including uniform requirements, homework expectations and information about the upcoming Year 7 camp.
We held our Year 8 Information Night on Thursday 7 February. This information night was also well attended and was designed to help understand what students will experience throughout Year 8. Thank you to our Junior School Team for all of their work organising and running these evenings.
Junior Campus Assembly
On Friday 8 February we held our first Junior Campus Assembly for 2019 with students singing the National Anthem and School Song, as well as hearing from our College Principal Mrs Karen Wade. It was great to have our 2018 College Dux, back at the college giving our students an insight into her success as a student. Our Junior School Captains and House Captains were also introduced.
Student Goals
On Tuesday 12 February during period 2, all students in Years 7 to 11 will participate in a session on setting goals for this year. These sessions will be led by our Year 12 students. On the Junior Campus, students in Years 7 and 8 will be mixed into House groups, with 3 Year 12 students and a staff member there to help support this process. On the Senior Campus, students in Years 9, 10 and 11 will be mixed into House groups, again with 3 Year 12 students and a staff member to support. Students set three goals in the following categories: Community, Choice and Engagement which represent our college motto. To assist in achieving these goals, our students will also come up with strategies of how they will achieve them and evidence that can be used to measure growth across the year. All of this can be viewed by parents/carers via the Insights tab on Compass. I encourage you to discuss your child's goals, strategies and evidence with them to support their growth this year. Students will meet in these groups during Term 2 and again later in the year to reflect on their successes and further areas for development.
Thank you to the Student Goals Team of Leading Teachers who were key drivers in the organisation, planning and leadership of this learning initiative that began for the first time last year: Miss Hayley Dureau, Mr Matt Sheehan, Mr John Simon and Ms Claire McCormack.
Parking in and around the Junior Campus
The Junior Campus only has a small number of onsite parking spaces which are for staff only. These staff carparks at the Junior Campus should not be used for dropping off or picking up students as this creates a safety issue for both staff and students. Students should be dropped off and picked up in adjacent side streets. When parking near the college it is important that parking signs are observed and we ask that you respect our local residents by not blocking their driveways.
A reminder for all parents/carers not to come onto the school grounds at the end of the school day to pick-up your child. This causes congestion for us and also presents an issue as to who from the general public may be on site without permission.
Student Safety
With the commencement of the school year it is timely to remind all members of our college community to observe all road laws. In particular, cyclists must wear helmets and when students cross any road, it needs to be done with great care, observing traffic signals and the crossing supervisor. Please discuss this with your child and emphasise the need to follow correct road safety practices to keep everyone safe.
Student accident insurance, ambulance cover arrangements and private property brought to school
Parents/carers are reminded that the Department of Education and Training does not provide personal accident or ambulance cover for students. Parents and carers of students who do not have private health insurance or ambulance cover are responsible for paying the cost of medical treatment for injured students.
Private property bought to the college by students, staff or visitors is not insured and the department is not responsible for any loss or damage. This can include mobile phones, calculators, sporting equipment and cars parked on school premises.
It is recommended that parents and carers consider insurance policies that can be purchased from commercial insurers.
Compass
All parents and carers should now have access to Compass which is used to communicate with families on a wide range of activities within the college. Compass can be accessed through the college website. Alternatively, you can also download the Compass App by searching "Compass School Manager" which will allow you to access Compass through your mobile/portable device. It is important to note that some features of Compass are only available in the "browser" version which can be activated using the App versions.
Mr Andrew Batchelor
Campus Principal – Junior School