Night at the Museum
Our Year 7 Night at the Museum evening was held on the Junior Campus on Tuesday 30 October and it was wonderful to see so many parents/carers at the college to discuss and share in their child's learning. This evening was the culmination of a number of weeks work involving research, designing and making an interactive activity, and creating an artefact. Congratulations to all of our Year 7 students who have produced some outstanding work and also to their Humanities teachers for their efforts in running and supporting this great learning opportunity. Thank you to Ms Gabi Phelan, Mrs Alisha Smith, Ms Linda Wotherspoon, Mr Peter Soutar, Ms Rachael McCracken, Mr Peter Jackson, Mr Les Mullins, Mrs Kate Rose, Ms Jo Rogers, Mrs Jane Harrabin, Ms Katie Radak, Ms Emma Kerr, Ms Lauren Kelly, Mr John Simon, Mr Bill Thomas, Mrs Debbie Sekula and Mrs Karen Wade for their efforts working with our students and/or in attendance on the night.
2019 Junior Campus Captains
The application process for our 2019 Junior Campus Captains is underway with interviews conducted and a speech from shortlisted applicants at an assembly this morning. We will announce our 2019 Junior Campus Captains next week. Thank you to Mr John Simon and Miss Hayley Dureau for leading this process. We look forward to commencing the process in appointing other 2019 Leaders at the Junior Campus including House Captains, Rotary Interact Leaders, Mount Matters and Teach the Teacher leaders.
Transition visits to Primary Schools
Transition visits to our feeder primary schools have commenced to meet with relevant teachers, leaders and support staff in gaining more information about our 2019 Year 7 students. Thank you to Mr John Simon for overseeing this, supported by Ms Lauren Kelly, Mrs Colleen Pritchard, Mrs Rhonda Palstra, Mrs Danielle Mott, Mrs Margaret Taylor, Ms Emma Kerr, Ms Katie Radak, and Ms Rachael McCracken.
2019 Enrichment Interviews
The process for selection the 2019 Year 7 Enrichment Class is well underway with testing completed towards the end of last term. Interviews of prospective students have now concluded. Thank you to Mr John Simon, Mrs Elizabeth Sutherland and Mrs Colleen Pritchard for supporting this selection process.
Year 8 into 9 transition
This past week and for the three days after the Cup Day holiday, we have our Year 8 students visiting the Senior Campus to support their transition before the Early Commencement Program. Students will go across in home groups, spending a double period there either during periods 1 and 2 or periods 5 and 6. Thank you to Ms Lauren Kelly and Mrs Jan Pugsley for organising these visits.
Year 8 Parent Book Club
On Thursday 25 October we held a Year 8 Parent Book Club on the Junior Campus for interested parties. It was great to hear some of the discussions around the importance of reading and how engaged a number of our students are with their reading in class and at home. The new Year 8 set text, 'The Hunger Games', has generated a buzz amongst the students, with overwhelmingly positive feedback about their enjoyment of this text. It was a pleasure to be able to discuss the themes and ideas in this novel with some of our parents and to generate some ideas for further discussions at home and in class. Thank you to all parents who attended and shared their feedback and thoughts with us; it was an animated and positive discussion! Thank you to Mrs Elizabeth Sutherland for organising the event, and to Mr John Simon and Ms Sarah Smith for their support.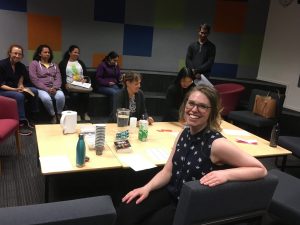 Mr Andrew Batchelor
Campus Principal – Junior School