The Importance of Community
I am thrilled to attend many events in our local community which enables me to network with students, parents and other community members. This is an important part of a Principal's job and I am always proud to represent Mount Waverley Secondary College and the great work that is going on everyday across the school. This newsletter has many examples of events that have been held recently and shows how the college is embracing not only our local but also our global communities.
Special Guest
On Thursday 14 June we welcomed Mr Matt Fregon to the college. Matt is the ALP Candidate for the State electorate of Mount Waverley. Matt was very interested to hear about our dream to build a new STEAM Centre on the Senior Campus. Our Technology teachers spoke to Matt during his visit about the need for this space.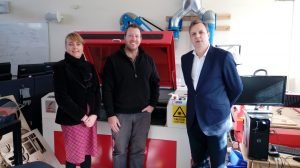 Year 12 Formal
On Thursday 14 June the vast majority of our Year 12 students (over 260 students) and over twenty teachers celebrated the end of semester at Leonda by the Yarra. The students and staff appreciated the good food, company and dancing. It was great to see the students all together enjoying themselves while looking very smart and glamourous. Feedback from the venue was extremely positive and they said our student's conduct and behaviour was outstanding. Special thanks to the Senior Subschool team and the Year 12 prefects who organised and supported the event.
VCE Parent Afternoon Tea
On Wednesday 20 June from 3:30pm to 4:30pm in the Fishbowl on the Senior Campus, our Parents at Mount group ran a VCE Parent Afternoon Tea. This event provided our parents with the opportunity to share ideas around supporting a child who is currently undertaking VCE studies. Thank you to Ms Erica McGown, Parents at Mount, for her efforts in organising this event and to Mrs Lyn Luongo and her VET students for providing afternoon tea.
The Glen Performance
Three ensembles performed at the Glen Shopping Centre last Thursday 22 June. This type of performance gives our students an invaluable experience performing live and puts the college on the map in our local community.
Thank you to Ms Alahana Somerville, Mr Thomas Frost and Ms Melissa Knowles who accompanied our students on the day.
Cybersafety Information Evening
Ten of my staff and I had the pleasure of attending a Cybersafety Information Evening at the Syndal Batist Church on Monday 25 June. MS Susan McLean one of Australian's foremost experts in the area of cybersafety gave a thoroughly engaging talk relating to what children are doing online, online grooming and cyberbullying. It was a very informative evening and I would like to thank Ms Ruth Barnden, the Children and Families Pastor at Syndal Baptist Church for her kind invitation to attend this event.
Student Voice Continues to be a Highlight
Mount Matters Forum
On Tuesday 26 June the Mount Matters Forum was held before school in the Senior Campus Theatrette. Student Leaders and Mount Matters representatives from Years 7 – 12 attended the forum and shared a summary of their findings from Mount Matters sessions in Term 2. I am always impressed by how articulate our students are and the way in which they work as a team. Congratulations to all of the students involved.

UN Youth Listening Tour
On Wednesday 27 June a group of Year 9, 10 and 11 students meet with Amos Washington, the 2018 Australian Youth Representative to the United Nations, and participated in a listening tour session. Amos' role involves travelling around Australia, consulting with young people and collecting their views. Upon finishing the tour, Amos will travel to the United Nations in New York and deliver a speech on behalf of young Australians at the UN General Assembly. Upon his return, the report will be delivered to the Australian Government, and the results relayed back to the communities consulted.
Special thanks to Ms Hayley Dureau Head of Student Voice for overseeing a myriad of different programs in this area.
Happy Holidays
Second term 2018 has been an exciting time for teaching and learning at Mount Waverley Secondary College. I hope everyone enjoys some family time over the holidays and I encourage all senior students to ensure a balance between study and relaxation. Develop a study timetable and stick to it, it will be worth it.
Have a safe and relaxing holiday.
Please note: the first day of Term 3 for students is Tuesday 17 July.
Mrs Karen Wade
College Principal