Rotary Youth Leadership Award
Neha Salahuddin (2017 College Captain) will represent Mount Waverley Secondary College at this year's Rotary Youth Leadership Award (RYLA) Camp. RYLA is a unique week-long residential seminar held all over the world, run by youth for youth aged 18 – 30, focusing on stimulating, challenging, educating, enhancing and empowering participants in the areas of leadership, personal and professional development and service to the community. Thank you to the Rotary Club of Mount Waverley for supporting these Youth Services Programs for our students and graduates.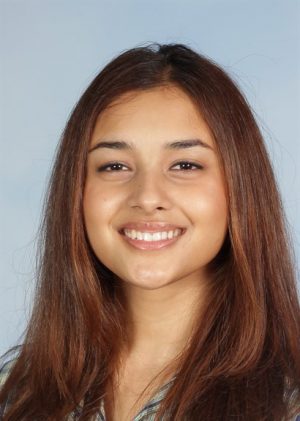 Student Voice in action
On Thursday 31 May the Year 9 Student Leadership Team fundraising sub-committee members met with Mrs Simmons (Business Manager) and Mrs Wade to discuss new seating options at our senior campus. Money raised from the 2017 College Raffle will be used to purchase new seating for students on the senior campus. Devyani, Ayra, Aaliyah, Lila, Minaree and Francis also spoke to Mrs Simmons and Mrs Wade about their fundraising proposal for term 4. The students are hoping to hold a college food drive for FareShare Australia.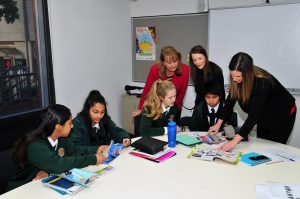 PESA
On Thursay 31 May Aayusha (Year 10) and Michael (Year 11) competed in the 2018 VCAA Plain English Speaking Award at Glen Waverley Secondary College. The Plain English Speaking Award (PESA) is a public-speaking competition for students aged 15-18 years. PESA provides an excellent opportunity for students to build self-confidence and extend their skills in oral communication, speech writing and research. The competition encourages students from Government, Catholic and Independent schools to speak to their peers from other schools on topics they are passionate about. Thank you to Julie Cain for attending with the students on the day. Well done Aayusha and Michael!
Mount Matters Forum
The Year 7, 8, 9, 10 and 11 Mount Matters Representatives will come together with the Year 8, 9, 10, 11 and 12 leaders on
Tuesday 26th June
for the Term 2 Mount Matters Forum. The forum is an opportunity for each Mount Matters team to present their findings to students and staff, and provide valuable feedback to Mrs Wade and the leadership team about student experiences at the college. Thank you to all of the staff who have contributed to making Mount Matters a success again this year, and in particular to Ms Kate Rose, Mr John Simon, Mr Andrew Batchelor and the Junior School team for launching Mount Matters on the Junior Campus this term.
New Zealand Visitors
A second delegation of visitors from New Zealand will visit the college on
Friday 8 June
. Andrea and Greta from Ashburton College will meet with students and staff at both campuses to learn more about our Student Voice program.
ACEL Q&A
Congratulations to Deputy Captain Madeleine who has been invited to speak about Student Voice at the Australian Council of Educational Leaders Student Voice Q&A Forum on Wednesday 1 August. The forum will be held at the University of Melbourne Graduate School of Education.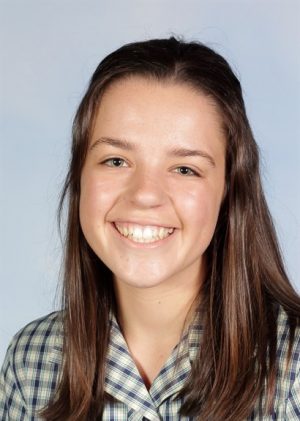 Miss Hayley Dureau
Head of Student Voice
The City of Monash All Schools Leadership Program is a much anticipated annual event run by the Monash Council's Youth Services team. Each year, every secondary school in Monash is invited to nominate 2 students, whom they see as with having great leadership potential, to participate in this program. This is an intensive five day leadership skills workshop where a number of topics are covered by using a fun and engaging mix of theory and activities to help solidify this knowledge as well as opportunities for participants to put their knowledge into practice.
From Monday 30 April to Friday 4 May, our two Year 10 students Ginuli and Shriya attended this program, and here are their experiences:
My experiences at the Monash All Schools Leadership Program (MASLP)
When I first applied to this program I started to think, what am I getting myself into exactly? Well despite the fact that this is my first time joining leadership this year, I was pretty scared at first. The reason I applied for this opportunity is because I wanted to get a slight taste of what leadership really is…also because you can place it on your resume…but mainly because I wanted to grasp a good understanding of what leadership really is and the fact that it's not just a person with a badge.
When I first arrived at the Monash Community Clayton Centre, I was pretty nervous. When you are about to spend the next full week with a bunch of kids from different schools around the city of Monash, of course you would be nervous. Well on the first day, we started off with exercises that really brought us together as a group. Nerve racking at first, but we warmed up together and eventually started to talk during breaks and lunches. To be honest our friendships escalated really quickly as our lunches somehow magically transported to subway. But besides that point, I learnt that it's difficult at first to start talking to someone, however, if you make the first move, it's not as difficult as you think. Shriya (my partner in crime and the other girl I was accompanied with from MWSC) and I were welcomed by two of the funniest, nice and engaging teachers we have ever met.
They introduced us to the topic of leadership skills that included information about qualities a leader should possess, such as: setting an example, communication, honesty, respect towards others, support, listening skills and shares experiences and much more. I have the attention span of a fish, but participating in this program really grabbed my attention and opened my eyes to another side of leadership I never really knew about. We had fun games that increased my ability to work with a group. These exercises included blindfolding others whilst playing a game to develop our communication with others. These games made me learn more about others around me in the room. We had created a comfortable space between all of us where we could feel free to express ourselves and respect each other in the motion of different exercises and challenges.
During the week, we developed an understanding of different leadership styles such as, directive, democratic, and hands-off leadership. We had intense group discussions on diversity as we outlined the differences in equality-sameness, and equity-fairness. The discussions that really stayed in my mind were that of privilege. People had different opinions on them and we did get into small conflict however we managed it like true leaders.
Public speaking was the highlight of my week. If you know me, you would know that I have some experience with public speaking but I never felt confident enough to reach out of my comfort zone and improve it. Being in this program improved my speaking immensely and taught us how to 'fake it till you make it' when you're speaking in front of an audience. We were assigned to create a small one minute speech about ourselves and I spoke about my struggles of being the shortest person alive. I made a few laughs here and there however my real performance showed on the last day at presentation night where we showcased what we learnt throughout the week. The opportunity to take part in public speaking in this program helped me improve my body posture, voice projection and eye contact and pulled me out of my comfort zone.
By the end of the week, we all said our dramatically sad goodbyes. I realized I was leaving a group full of people who were strangers to Shriya and I at first, but now the best of friends. I am thankful for the knowledge that the teachers gave us as they really opened a new world of leadership into our lives. If you ever see an opportunity that you might be interested in, take it. Don't be afraid to try new things as you never know the good that can come out of it. In the words of Jack Welch – "Before you are a leader, success is all about growing yourself. When you become a leader, success is all about growing others".
Ginuli D
How strangers became friends!
The Monash All School Leadership Program (MASLP) encourages students from the Monash community to take part in a program to develop their leadership skills. Students from different schools participate with a partner or by themselves to learn new skills and take it back to their peers.
When I took this opportunity, I felt excited but also nervous. I wondered if attending this program would change my perspective or not, and it did. With so many issues around us today such as bullying, body image, environmental issues and so on, this program taught me how to deal with issues that people face in normal day-to-day life. This program also made me realise how grateful I am to attend a school where great teachers and friends support and care about me.
My friend (Ginuli D) and I had no idea what to expect going into a room with 24 other students we have never met before. On the first day we participated in lots of interactive games, and we all worked together to achieve the goal that was given to us. One important topic covered on the second day was about privilege. It made me realise that I am lucky to have this opportunity to be educated and develop more skills to become who I want to be. On the third day we looked at public speaking and the ways we react to conflict and team work. On the Fourth day we learnt about the importance of stress and consent. On the final day we all had to present on stage about our experiences during the past 5 days. I was so nervous but then I remembered what I was told – "fake it till you make it". I am not normally comfortable with public speaking but I gave it a try and to be honest I did better than I expected. That evening we performed in front of our parents and teachers and we all received certificates. By the end of the program the group of 24 strangers felt like best friends!

I'm so thankful for having this opportunity to learn and explore the leadership skills. You don't need badge to be a leader!
Shriya N