Term 2 Working Bee
Our Term 2 Working Bee was held on Sunday 20 May on the Senior Campus. Many hands make light work and, before we knew it, many metres of mulch was spread over the garden beds. This made a dramatic impact and instantly improved the Senior Campus entrance. Thank you to all the students, parents and staff who attended.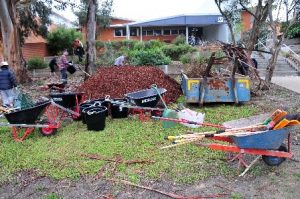 The Arts on Display
Over the past two weeks there have been fantastic Arts ensembles and performances on display. The Year 10, 11 and 12 Drama students performed their pieces and were assessed on their work. The Year 11 and 12 Music Performance students also played to an audience of friends, parents and staff and were assessed by our Instrumental and Classroom Music teachers.
Congratulations to all of our talented students, you should all be very proud of your achievements.
Preparing for Examinations
At this time of year our students are diligently studying for their outcomes and exams. It has been pleasing to see students studying in the library and VCE Centre, attending Homework Club, catching up with teachers for additional support and attending revision classes to ensure they are thoroughly prepared for their exams.
I would like to take this opportunity to wish each student all the best for their SACs and exams. I am sure they will be rewarded with results that reflect the hard work that has been undertaken throughout the first semester. Our learning community is proud of the way our students approach their learning, whether it be academic studies, learning a musical instrument, mastering a drama performance, or representing our college in one of our many leadership programs. Our students and teachers approach all activities with great enthusiasm, matching this with hard work and knowing they will achieve success by giving their best.
Honouring Paul Hamamen
Paul Hamamen was a valued member of staff as an Information Technology, Mathematics and Science teacher from 1990-1998. He taught these subjects with great passion during his time at Mount Waverley Secondary College. Paul was also a parent and a member of our College Council for many years. On Tuesday 22 May a plaque was unveiled in memory of Paul and his contribution to the college. In the audience were past and present members of staff, Paul's wife and children along with members of Paul's extended family. One of Paul's former students also attended, William Kartawidjaja who shared his personal story of how Paul helped him while he was studying. Special thanks must go to both William and Mr Peter Schneider for this fitting tribute.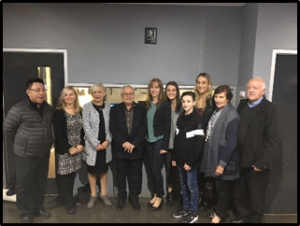 NEVR Regional Music Concert
I had the pleasure of attending the NEVR Regional Music Concert at Hamer Hall on Tuesday 22 May. Thirty two of our students performed in the Rookie Band, Concert Band, Symphonic Winds and the Symphony Orchestra and I was extremely impressed with the quality of their performances.
Congratulations to Ms Alahana Somerville who managed the Concert Band with over 100 students and Mr Joseph Yu and Ms Melissa Knowles who attended rehearsals and were there on the night supporting our students and State Education.
School Review
As 2018 is the last year of our current Strategic Plan we will be undertaking the School Review process in Term 3. I am therefore seeking feedback from parents and carers as part of our self-evaluation via Compass.
If you are able to complete this survey by 4pm on Friday 8 June I would be most grateful.
Cyber Victoria Schools Challenge
On Wednesday 30 May Mr Matt Hall, Mrs Stephanie Thomas and I had the privilege of attending the Cyber Victoria Schools Challenge Awards at ACMI Federation Square. Two of our students Stephanie and Garry featured in a video and spoke about their experiences in completing this challenge and how it had made them more aware of the career opportunities in cyber security.
Five of our teachers were recognised as Cyber Teachers, Mr Hall was named the Cyber Victoria Champion Teacher and Mount Waverley Secondary College was awarded the Cyber Victoria Champion School.
Congratulations to Mr Hall, Mrs Thomas and all of the students and staff who took part in this competition.
It is wonderful to see our learning community acknowledge the importance of building cyber capacity in our students and staff.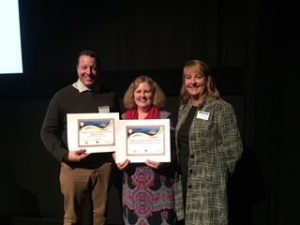 Mrs Karen Wade
College Principal