Mount Matters
Over the past month we have launched Mount Matters on the Junior Campus with sessions running at Year 7 and Year 8 rotating each week. These continue to be very successful and provide an opportunity for those student representatives from each home group to discuss what is going well at the college and how we can further develop. The sessions expertly run by our Year 11 and 12 Student Leaders which has been great to see them develop the leadership capacity of younger students. We look forward to the Mount Matters Forum on 26 June where all students representatives from Years 7 to 10 come together to present and discuss their ideas. Thank you to Mrs Kate Rose, Ms Hayley Dureau and Mr John Simon for their efforts in leading this initiative. Thank you to Mrs Bronwyn Nash, Mrs Margaret Taylor and Mrs Deb Munro for their efforts in supporting this program.
Student Goals – Session Two
On Friday 29 June during periods 5 and 6 (shortened due to last day of Term 2) we are undertaking our second Student Goals session. This session will focus on providing students in Years 7 to 11 with the opportunity to reflect on their progress made using the strategies and evidence when they set goals earlier this year. Our Year 12 students and Alumni students will again be leading these sessions with staff. This will again be recorded on Compass under Insights and will be accessible by students, staff and parents/carers. Thank you to Ms Hayley Dureau, Mr Matt Sheehan, Ms Emma Stevenson, Ms Gokce Delioglu, Ms Maureen Theobald and Ms Claire McCormack for their efforts and involvement.
Guardian Angels
Our 2018 Guardian Angels program continues to run which includes a number of Year 12 students coming back to the Junior Campus and running activities with our Year 7 students during home group on one day a week. This is a wonderful program and provided further support to our Year 7 students from our Senior Students. Thank you to Ms Linda Crook, Year 12 Coordinator, for her efforts in working with the Year 12 Student Leaders to organise this program. Thank you to Ms Emma Kerr and Ms Katie Radak for their support.
Year 8 Camps
Over this week and last, our second and third groups of students attended Camp Rubicon. The students enjoyed the activities on offer which included an overnight hike. Thank you to all of the staff who attended: Ms Lauren Kelly, Ms Kate Davine, Mr Way Lim, Mr Andrew Morton, Mr John Simon, Ms Sarah Smith and Mr Liam Wall. Thank you to Mr John Simon and Ms Lauren Kelly for their organisation of these camps, we look forward to the final camp next term.
College Values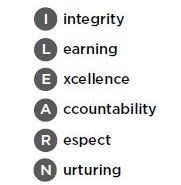 Congratulations to the following Year 7 students for clearly demonstrating our School Values and, in particular, for demonstrating excellence and being conscientious students in the classroom: Elena F, Natalie G, Teri S and Madeline T. They were nominated by their Food Technology teacher, Mrs Mott, who has been very impressed with their work ethic and approach to their learning.
Mr Andrew Batchelor
Campus Principal – Junior School