District Cross Country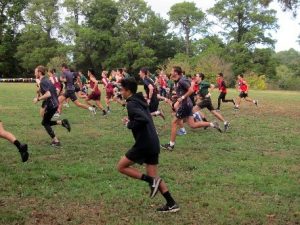 Our students have continued the Mount Waverley Secondary College tradition of participating in large numbers in sport by their active involvement in the school cross country event. It is rewarding to see our students committing themselves to leading a life of fun and fitness through participating in sport
whilst also learning the life long skills and values of team work and good sportsmanship.
The District Cross Country event took place on Tuesday 8 May. Mount Waverley Secondary College came second in the Overall Cross Country title for 2018. This is a fantastic achievement and I congratulate all of the students who competed on the day. Thanks to Mr Matt Cara and Mr Danny Gwynne for all of their hard work in getting the team ready for this event.
Well done to the following students who will now compete at the Zone level on Tuesday 19 June:
Kai W, Sarah W, Emlyn B, Merryn H, Emma T, Makenna P, Venla-Linnea K, Ebony G, Aiden A, Harry B, Riley J, Janith S, Rohan W, Lachlan A, Mykelti L, Connor S, Tim H, Megan B, Eva Z, Ethan K, Luke F, Max Z, Charlie Z, Jessica B, Emily H, Isabella V, Hannah R, Charlotte B, Nathan T, Cale M, Kevin E, Dhanvin N, Vivian S, Emma F, Cindy Y, Dhashan N, Isabelle R, Richard A, Izak B, Emma B, Katherine B, Nicholas C, tom H, Gabby H, Sean P, Nicholas S, Ilias S, Alannah T, Finn H, Kyle N and Charlie B.

Soweto Program
Our Year 11 exchange student from Letsibogo Girls' High School in Soweto Johannesburg Mbali has settled in well to her life in Australia. We are still looking for host families who would like to be involved in this philanthropic program. If your family is interested in hosting please contact the college.
Term 2 Working Bee
Our Term 2 Working Bee will be held this Sunday 20 May on the Senior Campus. There are many tasks we need to attend to including plants near the VCE centre, mulching and weeding. If you have any time to spare between 9am and 12 noon on this day we would love to see you.
School Council Election 2018
Congratulations to our new student members; Liam R (Year 12) and Elizabeth S (Year 8) who were elected unopposed to College Council for a one/two year term. They will join our parents, staff and community representatives on our College Council and we look forward to their valuable input.
Preparing for Examinations
At this time of year our students are diligently studying for their outcomes and exams. It has been pleasing to see students studying in the library and VCE Centre, attending Homework Club, catching up with teachers for additional support and attending revision classes to ensure they are thoroughly prepared for their exams.
I would like to take this opportunity to wish each student all the best for their SACs and exams. I am sure they will be rewarded with results that reflect the hard work that has been undertaken throughout the first semester. Our learning community is proud of the way our students approach their learning, whether it be academic studies, learning a musical instrument, mastering a drama performance, or representing our college in one of our many leadership programs. Our students and teachers approach all activities with great enthusiasm, matching this with hard work and knowing they will achieve success by giving their best.
Exam Dates:
Year 9 : Monday 4 June – Friday 8 June
Year 10 : Friday 25 May to Friday 1 June and Tuesday 12 June
Year 11 : Friday 1 June – Thursday 14 June
Year 12 SACs : Monday 4 June – Thursday 14 June
General Achievement Test (GAT) : Wednesday 13 June
Mrs Karen Wade
College Principal