Building Better Bridges
Earlier this term, Polly S. and Riley T. of Year 9 were given the chance to co-present a segment for the children's Science program on TV called Scope.
As part of the episode with an engineering theme, Polly and Riley each designed a different paper bridge. Once constructed, they placed a container on each of their bridges and carefully added glass marbles to each to see which bridge design could hold a heavier load.
One of the bridges collapsed sooner that the other and its container and marbles went spiraling down into "crocodile-infested" waters.
To find out which bridge design was superior, watch
Scope
on Channel 11 on
Saturday, 30 December at 8.30 am
!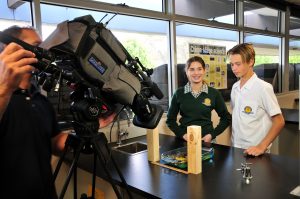 Lemon Power!!
During our Early Commencement Program this year, Junior Campus Captains, Tesh W. & Max C. were videoed for an episode of Scope TV.
As part of the' technology – innovation' themed episode of this children's Science program, Tesh and Max demonstrated to the young viewers at home that "lemon power" could be used to light up an LED.
We eagerly await for Tesh's and Max's lemon-scented segment to air on Channel 11 early in 2018!