Dr Russell Quaglia – Student Voice Keynote
On Tuesday 10 October Mount Waverley Secondary hosted a Student Voice professional development session with international guest presenter Dr Russell Quaglia. More than 200 people attended the conference including teachers and school leaders from primary and secondary schools across the government and independent sectors. The conference was also attended by representatives from the Department of Education and Training, Deakin University, Monash University, University of Melbourne and the VicSRC. Our student leaders met with Dr Quaglia for lunch and spoke to him about the challenges of enhancing student voice. College Captains Neha and Campbell were the MCs for the event, along with Tiffany, Demitri, Liam and Emma who spoke to the audience as part of a Q&A panel. Thank you to the many Mount Waverley Secondary College staff who attended and/or supported the event.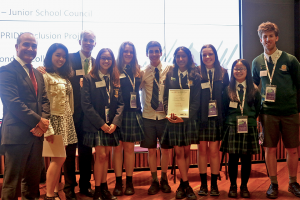 VicSRC Recognition Awards
On Wednesday 11 October I had the pleasure of attending the VicSRC Recognition Awards for the third year in a row. Our amazing student leaders were finalists in the Group Action award category. Demitri, Liam, Neha, Feyla, Campbell, Maddy, Emma, Tiffany, Vidarshana and Jessalyn attended the awards ceremony and, as finalists, we received a $1000 grant towards our student leadership program and a one year membership to VicSRC. Congratulations to Emerald Secondary College who won the Group Action Award for their student-led Inclusive Education program. Thank you to Mrs Julie Cain and Mr Andrew Batchelor for attending the event and supporting our students.
Farewell Year 12 Leaders
Our Year 12 Captains and Prefects had their last weekly meeting on Monday 16 October. College Captain Neha had put together a slideshow to celebrate the many achievements of their team – not just this year, but throughout their time at the college. The leaders thanked their Coordinators, Ms Linda Crook and Ms Claire McCormack, for the constant support and encouragement they provided throughout the year. We wish all of our Year 12s all the best for their upcoming exams and thank them for being wonderful role models to the student body this year.
2018 Year 12 Student Leadership Application Process
Thank you to all of the Year 11 students who have submitted applications for 2018 Year 12 Leadership positions. Interviews for College, Sports, Music, Arts and Sustainability Captains and Prefects will take place over the coming weeks. Those students who are shortlisted for College Captain will make a speech to their cohort on Thursday 26 October, after which the year level will vote for their 2018 College Captains. Thank you to all of the staff who have been involved in this process.
Rotary Four Way Test Competition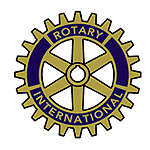 On Tuesday 17 October Year 10 students Michael and Danial competed in the Rotary Four Way Test competition at the Mulgrave Country Club. Thank you to Ms Glenda Splatt and Ms Lisa McKiernan for attending on the night to support Michael and Danial. Thank you also to the Rotary Club of Mount Waverley for supporting our students' participation in this event once again this year.
The program promotes public speaking for students in Year 10. Participants are able to choose their own topic (something they are passionate about) and Rotary's Four Way Test which is applied to the topic chosen by the student. Speeches lasted four minutes and at least two selected elements of the Four Way Test were to be woven throughout the speech.
Benefits for participants are:
• developing planning, research, organising and presentation skills
• understanding the importance of effective communication
• improving ability to speak effectively in front of an audience
• improving self-esteem and confidence
THE FOUR-WAY TEST
Of the things we think, say or do
1. Is it the TRUTH ?
2. Is it FAIR to all concerned?
3. Will it build GOODWILL and BETTER FRIENDSHIPS?
4. Will it be BENEFICIAL to all concerned?
Well done Michael and Danial!
National Young Leaders Day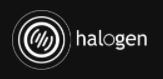 On 13 November a group of Years 7, 8 and 9 students will attend the National Young Leaders Day conference in Melbourne. Run by the Halogen foundation, the event gathers together prominent leaders for a full day conference with guest speakers, question times, short videos, learning exercises, student involvement, music and student interaction. We look forward to their feedback after the event.
Ms Hayley Dureau
Head of Student Voice