I hope all members of our college community had a restful and enjoyable holiday. The college grounds are looking magnificent at the moment with the onset of spring. I would like to thank Mr Rémy Landman, Mr Kevin Cai, Mr Aro Ezackial, Mr Rohan Cupper, Mr Andrew Wallace, Mr Steve Martin and Mr Ras van der Merwe for all of the extra work they did in the holidays preparing our grounds, facilities, ICT area and new timetable for Early Commencement.
Best Wishes to our Year 12 Students
Over the holiday break many Year 12 revision classes ran and I would like to thank my dedicated Year 12 teachers for providing this opportunity to their students. Special thanks to Ms Maureen Theobald, our Head of Senior School, who oversaw this program.
Congratulations to all Year 12 students who are now nearing the completion of thirteen years of school. This is a magnificent achievement. I would like to thank our Year 12 students for their contribution to our learning community which has allowed Mount Waverley Secondary College to maintain its well-deserved outstanding reputation.
I would particularly like to thank Neha and Campbell for the magnificent job they have done as our College Captains and also congratulate Nick and Feyla for their contribution as Deputy Captains.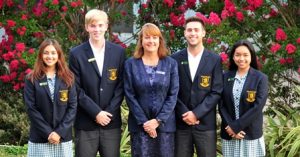 The Senior Students have been excellent role models clearly demonstrating great leadership skills whilst maintaining a focus and dedication to study.
I have enjoyed meeting our Year 12 students throughout the year and I have been impressed with their dedication to study, support of their peers and positive relationships with their teachers. I thank all staff who have supported our Year 12 students throughout their time at Mount Waverley Secondary College.
I encourage our Year 12 students to always believe you can achieve your dreams. Never give up when life throws up a challenge. That is the key to success. Keep striving towards your goal and you will reach it. I wish each and every Year 12 student all the best as they enter the next exciting phase of their lives.
Monash Tech School Official Opening
On Tuesday 10 October Mr Ian MacLeod, Junior Campus Principal, and I had the pleasure of attending to official opening on the Monash Tech School. This is one of ten tech schools being opened across the state. The Monash Tech School resembles a modern space rather than a classroom and focusses on flexible design thinking. Mount Waverley Secondary College is one of eleven partner schools who will work with the tech school to develop programs that provide real-world skills in a contemporary environment which reflect the process and flows of industry research and tertiary sectors.
The Monash Tech School also partners closely with Monash University, Holmesglen TAFE, CSIRO, City of Monash and other industry and community partners.
After the opening I was a member of the official party who was taken on a tour of the facility. One of our Year 7 classes were involved in a Super Humans three day program and it was great to see how engaged they were in this state of the art facility. They were using the Design Thinking model to create novel and interesting solutions to real life medical problems. Our college is proud to be part of such an innovative program.
Telstra Business Women's Awards
On Tuesday 10 October I had the privilege of being shortlisted as one of the finalists in the Victorian Telstra Business Women's Award which were held at The Peninsula, Docklands. Over six hundred people attended on the night. I was nominated in the Telstra Victoria Public Sector and Academia Award for my achievements as Principal at both Bentleigh and Mount Waverley Secondary Colleges. It was a great honour to be one of four finalists in this category and I congratulate Associate Professor Kate Hoy from Monash University who won this award.
Mrs Karen Wade
College Principal