Music @ MWSC
MWSC Production – Legally Blonde
What a wonderful musical experience this was for all involved. With 3 current students, 5 past students and 4 staff in the orchestra, it was a great experience. With two solid hours of music to learn, the work that went into learning this challenging music was enormous. A special thank you to our Instrumental Music staff: Mr James Davies, Mr Troy Downward, Ms Melanie Wilkinson and Ms Jessica Burton for playing with the ensemble and mentoring our students. I feel privileged to have conducted this group.
VSMF – Symphonic Band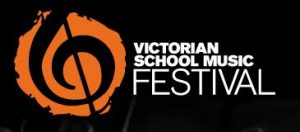 On Tuesday 8 August, our Symphonic Band participated in the Victorian School Music Festival. This festival is a wonderful opportunity for our music students to hear other bands and work with the Chief Adjudicator after their performance. Congratulations to Mr Joseph Yu on his direction and the ensemble on their performance. View some photots from this night: https://youtu.be/nmeFRi1wVYA
Trumpet Workshop – Greg Spence
On Friday 11 August two of our Year 7 Brass classes had the privilege of attending a workshop with Mr Greg Spence.
Greg is well known in the Australian commercial music scene and has played trumpet on many of Australia's top rating television shows including Dancing With The Stars, In Melbourne Tonight, Hey Hey it's Saturday, the TV Week Logie Awards, the Mick Molloy Show and Carols by Candlelight. He has professional theatre experience including shows like Chicago, Mame, Funny Girl, Fame, Annie and many more.
Greg's teaching method "The Only No Mystery Guide to Trumpet Mastery" is endorsed by Yamaha Music Australia as its number 1 trumpet method book of choice. He is a member of Shrewd Brass, a popular brass quintet with the educational Musica Viva in Schools Program and has been a teacher and examiner for schools and universities in Melbourne. Greg often conducts workshops for schools, music retailers and instrument makers.
Thanks to Greg for coming in and providing our student with this great experience.

Gala Concert – Thursday 21 September, 7.00pm Senior Campus Hall
Our annual Gala Concert is fast approaching. With our growing music department, we now have 19 bands running at the college. This concert will feature all of these ensembles with students in Years 7-12. Tickets will be on sale in the coming weeks.
Ms Tijtje Ellis
Director of Music