German Poetry Competition 2017 – Regional Finals
On Thursday 3 July, the Association of German Teachers of Victoria (AGTV) held the Regional Final of its annual German Poetry Competition. Eight of our students studied, memorised and interpreted an original German poem, and after having been judged the best performers in their own year levels at Mount Waverley Secondary College, they pitted their German skills against students from a host of other schools in the Monash/Whitehorse region.
The students selected to represent the college were:
Year 7: Nora Bartol, Natalie Loh, Anna Raftopolous and Grigory Utrobin
Year 8: Jack Taylor and Hannah Rietlewski
Year 9: Shroyo Shamshuddin and Emma Kelsall
These students overcame their nerves to recite their poems in front of the judges and a group of their peers, and all performed marvellously. The day was a huge success for the college.
Shroyo took out the coveted Gold medal in the Year 9 division, and Hannah the Bronze in the Year 8 Native Speaker division. Shroyo will now go on to represent the college at the State Finals at the gemütlicher (cozy!) Austrian Club in Heidelberg on Saturday 19 August. We wish him viel Glück (good luck!) for the finals.
Congratulations to all of the students involved; we in the German faculty are very stoltz (proud!).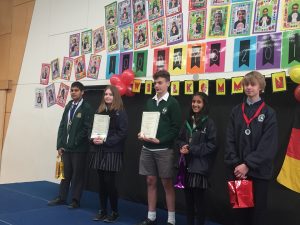 Pictured is the awards ceremony with Shroyo Shamsuddin of Year 9 (far left) accepting his Gold medal.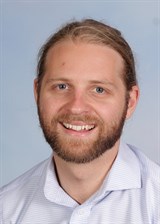 Mr Tim Hocking
Teaching & Learning Leader – Languages