Collingwood Football Club Leadership Day
On Thursday 3 August, we were two of ten emerging leaders fortunate enough to accompany Mr Hose to a Collingwood Football Club Leadership and Team Building day at the Holden Centre (directly opposite Melbourne Park). We travelled by train from Mount Waverley Station to Richmond Station and then walked down Olympic Boulevard to Collingwood's amazing training facility.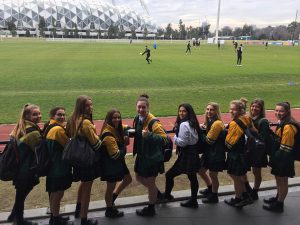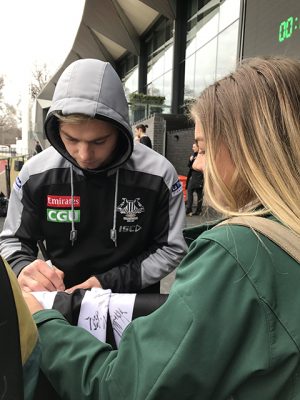 Arriving at the Holden Centre, we were very excited to get the opportunity to watch and learn from some of our favourite players. The atmosphere at the ground was energetic as there was music playing and all the players seemed to be training hard as well as having fun. We all stood along the fence watching Collingwood's entire squad train for about an hour and a half in the cold wind. As the players finished the main session and exited the field, they spoke to the group, gave autographs and took photos with most of us. The highlight of Amelia's day was meeting Jamie Elliott (Collingwood #5), as he is her favourite player. This was an experience all the girls will not forget, as we had almost complete access to all the players on Collingwood's list. There was also a few die-hard supporters braving the cold weather to watch their team train.
We were fortunate enough to watch a live press conference of Nathan Buckley, coach of the Collingwood Football Club. It was interesting to see what actually goes on behind the scenes of a press conference. He talked about the drawn game Collingwood played against Adelaide and how it was disappointing that the players gave up such a big lead and also spoke of the great effort the players put in against the top side.
For lunch we sat down with two players on each table to go through a leadership workshop. The Year 9 girls were lucky enough to sit on the same table as Ben Reid. We discussed what makes a leader, who is a leader, what we want to achieve being a leader and more. Ben was a very nice guy. We spoke with Ben and heard what leadership meant for him and what leadership was at the Collingwood Football Club.
The Year 10 girls were fortunate enough to sit with former leading goal kicker for Collingwood, Alex Fasolo, and a first year player Ben Crocker. Both players shared what they think it takes to be a leader and the different types of leaders they have around the Collingwood Football Club. Despite Alex recently having publicly declared his battle with depression, he was really positive and was happy to answer any questions we had.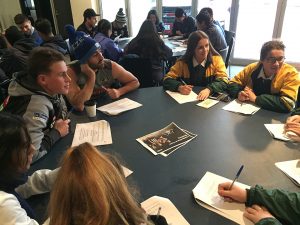 We all definitely took a lot away from this workshop and will apply the skills in being a good leader at School, home or even at our sporting clubs.
The tour of the Holden Centre was a great finish to the day. We got to see the players using the gym and other facilities, such as a full-sized basketball/netball court and an altitude training room. The music was blasting throughout the training facility as the players were training. It also was interesting to find out how often they train and what their week consists of.
Overall it was an incredible experience and we all took away a lot from this day. We would like to thank Ms Dureau for organising this fantastic opportunity and Mr Hose for accompanying us on the day.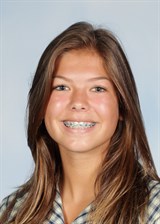 Amelia van Oosterwijck (Year 9)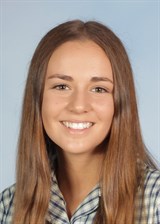 Natalie Demicoli (Year 10)