Assistant Principal's Update
College Raffle
Congratulations to all of our raffle winners that were drawn at the opening night of our college production, Legally Blonde, on Thursday 3 August. If you are still to collect your prizes, please contact Mrs Karen Deross at the college to make arrangements. Thank you to all in our learning community who sold tickets. This year we raised $5600 which will go towards student resources, details of which will be announced at a later date.
Learning Goals Forum
On Monday 7 August we held a student and staff forum on Learning Goals, to gain further ideas and input into how we can develop further improvements in learning at the college. We had 16 students in attendance from Years 8, 9, 10 and 11, along with 12 staff from both campuses. Thank you to Miss Hayley Dureau and Mr Matthew Sheehan for their efforts in working with me to further develop an approach to student learning goals at the college. We will present information to staff via a session during Professional Learning Week (Thursday 17 August) to gain further input from them, followed by students, as we develop the best approach for 2018.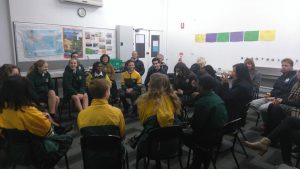 College Values

Congratulations to Freddy Peacock, one of our Year 9 students for clearly demonstrating our School Values over the past week, in particular, for his approach to learning and supporting the college community by volunteering to assist in the running of our annual Athletics Day.
---

Alumni news by Elise Dunstan
Mount Waverley Secondary College is proud to have been selected to take part in Ourschool, an exciting new project aimed at helping state secondary schools harness the expertise of their alumni (former students).
Ourschool is a not-for-profit service that will help Mount Waverley Secondary College invite alumni back to the school to provide advice and career guidance to current students.
It Is the first alumni service for state secondary schools in Australia. Alumni organisations in private schools are well established and provide huge benefits to schools. This new service will help us grow our alumni community to benefit our students.
Stay tuned for more alumni news in further school newsletters. To access the feature article in The Age click here, and to learn more about Ourschool project, go to www.ourschool.net.au
Mount Waverley Secondary College Alumni:
(left to right) Mrs Stephanie Thomas (Careers & VET Coordinator), Kassie Makeham (2014), Michelle Currie (1982), Erin Washington (2014), Dean Robinson (2014) and Ms Elise Dunstan (Alumni Program Manager) at the college musical 'Legally Blonde'.
Mr Andrew Batchelor
Assistant Principal