VicSRC Congress Camp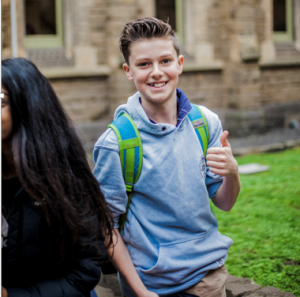 Welcome back to all of our students and staff! During the holidays some of our student leaders attended the VicSRC Congress Camp. VicSRC Congress is an annual camp facilitated by VicSRC and 2017 marks the fourth year that we have sent students to the Congress. Congress brings students together from all across the state to decide on the issues that really matter to Victorian students. Through interactive workshops and parliamentary-style debate, student delegates determine the VicSRC policy agenda for the coming year, and appoint the Student Executive that will implement it.
This year VicSRC Congress Camp was held at Ormond College from 10-12 July. We were fortunate enough to send six of our Student Leaders – Year 8 Charlotte Bahr, Teshani Weerawardana and Max Cowie, Year 9s Yadu Balashanmugan and Aahana Nandwani and Year 11 Tiffany Yang. Year 12 Deputy Captain Feyla Anja and College Captain Campbell McGown also attended the Congress Camp as they are both on the VicSRC Executive. 2016 College Captains Chester Ngan and Liz Chiem, as well as 2015 Prefect Netania Lim, were also at Congress as official facilitators.
Each Year at the Congress Camp the Executive is elected for the following twelve months. It gives me great pleasure to announce that Tiffany Yang was elected as one of just 15 students statewide to sit on the Executive. This is incredible news, as Tiffany becomes the fourth Mount Waverley Secondary College student to be elected to the Executive in just the last three years (2015-2016 Liz Chiem, 2016-2017 Feyla and Campbell, 2016-2017 Tiffany Yang).
You can learn more about VicSRC Congress (and see some of our students) here:
https://youtu.be/RAF4Uj2Vq58
On the third day of Congress, Deputy Premier and Minister for Education Mr James Merlino addressed the students. At the 11:10 minute mark of his address Minister Merlino highlighted MWSC as a school leading the way in student voice! You can see his full speech here:
https://m.facebook.com/story.php?story_fbid=10154657400327031&id=289511477030
Ms Hayley Dureau
Head of Student Voice