College Principal's Report
Welcome back to Term 3 at Mount Waverley Secondary College.
I hope you enjoyed some special time with family and friends over the break. I would like to thank Mr Andrew Batchelor who replaced me as Acting College Principal at the end of last term whilst I was on long service leave. I also welcome Mr Matt Sheehan to our Principal team for seven weeks. Matt is Acting Senior Campus Principal whilst Mrs Julie Cain is on long service leave.
I would also like to welcome the following new staff to the college who are replacing staff on leave:
Ms Erin Mahar : English/Drama
Ms Jovana Drakulic : English
Ms Lila Price : Art
Mr Justin Fitzherbert-Smith : English
Mr Luke Moore : Science
Professional Learning Day
On Monday 14 July we held a very successful professional learning day with our teaching staff. The day was based around the theme of "Putting faces on the data". Staff familiarised themselves with educational research and Mr Ryan Dunn, Lecturer from the Graduate School of Education at the University of Melbourne, gave the keynote address on "Data Literacy and Professional Learning Teams".
Three data strategies were explored: Guttman Charts, Observational Charts and the Effect Size Calculator which will enable teachers to identify students' learning needs. Thank you to Mr Jason McCrae, our Head of Data Assessment and Reporting, who helped organise this day and all of the staff who contributed to these sessions.
State Cross Country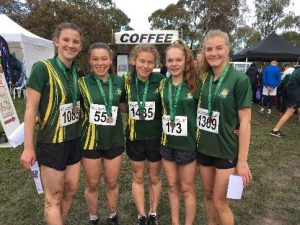 On Thursday 20 July, a record seven students represented Mount Waverley at the State Cross Country meet at Bundoora Park. Congratulations to Nathan Tiemens who came 13th in the Under 15 Boys and Daniel Ballan who came 29th in the Under 17-20 Boys.
Our Under 15 Girls team consisting of Makenna Perry, Merryn Harris, Sarah Wall, Emlyn Burgess and Emma Tiemens were awarded Bronze medals. This is an outstanding achievement. Well done girls!
VCE Student/Parent/Teacher Conferences
Thank you to all the students and parents who attended the VCE conferences last night. The feedback was very positive and there is no doubt the students appreciate being supported by both the college and their families at this critical stage of their education.

College Raffle
Just a reminder that all raffle tickets (either sold or unsold) must now be returned to the General Office at either campus. Prizes will be drawn on Thursday 3 August, opening night of our college production 'Legally Blonde'. I appreciate how members of our college community are supporting this important fundraising event.
College Production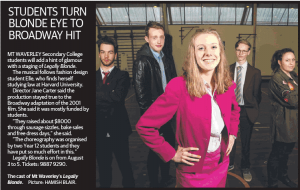 This is an article featured in the Monash Leader last week promoting our college production Legally Blonde which opens on Thursday 3 August. Please support our students by coming to see the play. I am sure it will be a great show!
Parent Opinion Survey 2017
The Parent Opinion Survey is completed annually by the Department of Education and Training and is conducted amongst a sample of randomly selected parents at every school in Victoria. This year, about 30 per cent of parents will be invited to participate. All responses to the survey are anonymous.
The survey helps our college gain an understanding of how you view our school climate, student engagement and relationships. Our college will use the results to inform school planning and improvement strategies.
The survey will be conducted online by ORIMA Research Pty Ltd and only takes 15 minutes to complete. It can be accessed from Monday 7 August to Sunday 27 August and parents can complete the survey using any connected device even mobile phones. Responses are confidential, and parents can be reassured that schools are unable to link responses to individuals.
The survey is available in English, Arabic, Vietnamese, Mandarin, Chin (Hakha) and Hindi. Results will be received at the college at the end of September.
For more information, see Parent Opinion Survey: http://www.education.vic.gov.au/school/teachers/management/improvement/Pages/performsurveyparent.aspx
Mrs Karen Wade
College Principal