Junior Campus Principal's Update
It has been a busy time at the Junior Campus over the last few weeks with students undergoing assessment in readiness for reporting. As well as working hard in the classroom, students have had a wide range of opportunities including sporting Round Robin days to focus on outside the classroom.
Sports Reports
Boys Netball and Girls Football
Our Girls Football Teams headed to Oakleigh on Tuesday 30 May to play in the Round Robin competition. The Junior team made up of Year 7 and 8 girls played extremely well, clearly being the best team on the day winning through to the zone competition conceding only three points across their three games. On the same day, our Junior Boys netballers were out on the courts, they played well on the day finishing out of the finals. Thanks to Mr Danny Gwynne and Ms Belinda Gatward for coaching these teams.
Year 8 Round Robin
On Friday 2 June, the Year 8 Round Robin offered students the chance to player soccer (boys and girls), badminton (boys and girls), football (boys) and netball (girls). The boys soccer won through to Zone claiming the District title. The boys B badminton also finished first on the day, with the boys A badminton team narrowly losing the final to finish second. Both girls badminton teams and the boys football also finishing second. Thanks to Ms Emma Kerr, Mr Way Lim, Mr Chris Beale, Mr Andrew Morton, Mrs Natasha Campbell and Mr Greg Campbell who coached these teams.
Year 7 Round Robin
Soccer (boys and girls), badminton (boys and girls), football (boys) and netball (girls) were the sports on offer for our Year 7 students on Friday 9 June. The girls A netball team took out the District title along with the boys and girls A badminton teams wining through to Zone. Both soccer teams finished second, with our footballers putting in a good effort on the day finishing third. Thanks to Ms Emma Kerr, Mr Way Lim, Mr Chris Beale, Mr Peter Scott, Mr Gordon Gunn and Mr Greg Campbell who coached these teams.
Thanks also to Mr Danny Gwynne for convening the badminton, coordinating all of the teams and getting everyone and everything organised for both days!
Tinnies for Vinnies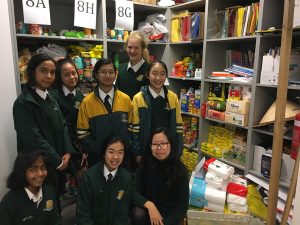 Our annual Tinnies for Vinnies collection is well underway on the Junior Campus. Both students and staff are contributing non-perishable food for St Vincent de Paul. Our Home Groups are competing against each other to hopefully beat last year's impressive total of 2500 items. This food will be put to good use in helping families in our local area and across Melbourne. So if you have few spare tins of food in your pantry, please send them along to the Junior Campus so we can set a new record.
da Vinci Decathlon
Congratulations to our Year 7 students who performed brilliantly in the da Vinci Decathlon State Final held on 31 May at MLC finishing in fifth place. We are very proud of your efforts. Well done to Alex Goode, Ewan Burgess, Zahara Harrison, Amelia Chen, Vansh Mehta, Isabelle Nguyen, Tahsin Karim and Tim Huang. Thanks to Peter Scott and Elizabeth Sutherland for making this happen!
World Vision Youth Conferences
The World Vision Youth Conference was held on Friday 9 June at the Melbourne Convention and Exhibition Centre. A group of Junior Campus Student Leaders got to work with students from other schools on tackling the biggest issues facing humanity and empowering Australia's youth. Thanks to Andrew Morton for taking our leaders to this great event.
Mr Ian MacLeod
Junior Campus Principal