College Principal's Report
College Raffle
We have been working hard on sourcing some great prizes for our College Raffle this year. Nearly $5000 worth of prizes have been sought including an Apple iPhone 7, Lenovo ThinkPad, BMW watch, Fireclay Chimenea and many other fantastic prizes.
Each student in the college will be allocated one booklet of ten tickets which will be handed out in Home Group before the end of term. These tickets are numbered and all tickets must be returned to the college either sold or unsold before Thursday 20 July. If students sell all of their tickets they will be eligible to be entered into the ticket sellers prize draw and six great prizes are on offer.
Please support the college by selling all of your tickets. Last year we raised over $6000 which went towards the purchase of goal posts and students are once again enjoying playing football on the Senior Campus oval.
Teaching Initiatives Program Awards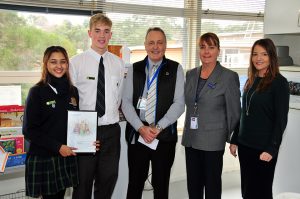 Mr Warden Mersey from the Victoria Teachers' Mutual Bank visited the college on Tuesday 13 June to present a cheque for $1500 to some of our leadership students. This was in recognition of our excellent Student Voice program. College Captains Neha Salahuddin and Campbell McGown accepted the award on behalf of the college. Congratulations to Ms Hayley Dureau, Head of Student Voice and all of our student leaders for this fantastic achievement.
End of Semester 1
It's been a busy time with a lot to get through. I would like to thank all the teachers for the great work achieved this semester. Special thanks to the teachers who prepared their students for mid year examinations. Many extra classes were held (some out of hours) and this demonstrates the dedication of the staff at this school. I would also like to thank Mr Nick Creed, Senior School Leader, and Ms Regan Della-Porta, our Chief Examiner and her team for the smooth way in which they ran the VCE examination process. With 436 students sitting the General Achievement Test (GAT exam) this is no mean feat. The examiners again stated how well behaved our students were, which is a great credit to our school.
Semester 1 Reports
Semester 1 reports will be distributed via Compass on the final day of term, Friday 30 June, and the Year 11 exam transcript will be published at the start of next term. Please make the time to discuss your student's progress with them, both areas of strength and areas for improvement. Congratulations to those students who achieved excellent results this semester.
Happy Holidays
As I am going on long service leave the last week of the term, this will be my last College News article for Term 2. Mr Andrew Batchelor will be Acting College Principal whilst I am away.
Second term 2017 has been an exciting time for teaching and learning at Mount Waverley Secondary College. I hope everyone enjoys some family time over the holidays and I encourage all senior students to ensure a balance between study and relaxation. Develop a study timetable and stick to it, it will be worth it.
Have a safe and relaxing holiday.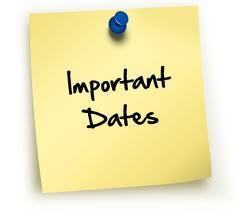 Please note: the first day of Term 3 for students is Tuesday 18 July.
Mrs Karen Wade
College Principal