Casual Clothes Day Fundraiser
"I BORROWED A JEEP"
"You did what?"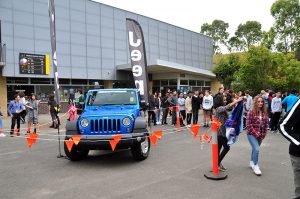 I borrowed a Jeep for our Casual Clothes Day Fundraiser held on the last day of Term 1.
True to their brand motto of 'Don't Hold Back', Mr Alex Bompane, the dynamic manager at Chadstone Jeep, did not hold back for one moment when I requested to borrow a Jeep especially when he heard that it was to be displayed as part of a fundraiser for World Vision.
The Jeep brand synonymous with adventure, fun and the great outdoors was considered a natural fit for the theme of our Casual Clothes Day Fundraiser – 'Say Goodbye to Summer'.
As our students slowly made their way from their period 4 classes, they were astounded to find that a Jeep Wrangler had "landed" in the middle of our campus together with its tall banners that were fluttering proudly in the wind.
Once over the initial surprise, the students were eager to take a pic of their "dream car" and sitting in the driver's seat with the radio blaring was a much sought after position.
Mount Waverley Secondary College would like to sincerely thank Mr Bompane and his team at Chadstone Jeep for agreeing to the novel request and for allowing us to borrow one of their brand new Jeep Wranglers. Having a shiny blue Jeep Wrangler at our college certainly added to the excitement of the Casual Clothes Day Fundraiser! We look forward to continuing our relationship with Chadstone Jeep.
No doubt, on this particular Friday evening, our students asked their parents for a Jeep rather than for fish n' chips!
STOP PRESS
CHADSTONE JEEP WILL DONTATE $250 to our college or to World Vision (customer's choice) for every vehicle purchased by a member of the Mount Waverley Secondary College community during the month of May 2017.


Raffle – A 'Lovely' Prize!
Congratulations to Natalie Christopher of Year 12 for winning the raffle drawn on our Casual Clothes Day Fundraiser on the last day of Term 1.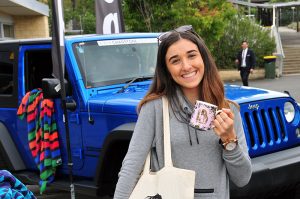 Nat received a hamper from the Pancake Parlour containing a number of "goodies" including a bottle of maple syrup and a limited edition colourful 'Lovely' mug.
House Swimming Sports Display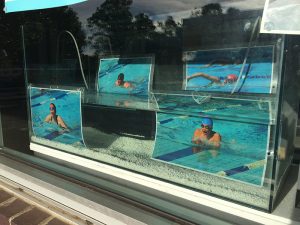 Whereas most aquariums contain fish, the fish tank on display toward the end of Term 1 contained something quite different. It contained four laminated photos of our House swimmers in action or, should we say, "in water".
Mount Waverley Secondary College would like to thank Mr James Astley from HI FIN Aquarium for kindly supplying and setting up the aquarium.
The no

vel display certainly created some interest.
In response to the question, "Where are the fish?" The answer is at HI FIN AQUARIUM – 257 Blackburn Rd, Mount Waverley.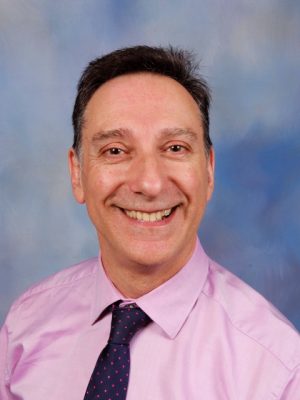 Mr Anthony Borya
College Displays and Events