ASSISTANT PRINCIPAL'S REPORT

World Challenge 2018
After several successful student-leadership expeditions in the past – Mount Waverley Secondary College is delighted to announce that we are launching the next exciting program which offers current Year 9 and 10 students the opportunity to plan, fund and ultimately lead their own 28 day long expedition to Cambodia and Laos next year.
World Challenge is unique; students have a chance to CHALLENGE themselves and lead the expedition team to a developing world country that will see them develop real life skills prized by universities and employers alike, such as forward planning, communication, leadership and running effective group meetings. The students will also partake in a challenging trek and immerse themselves within a local community where they will have a chance to understand some of the issues facing parts of our world. Not only is World Challenge a chance to travel throughout some developing countries and see how lucky we are to live in Australia, the fact that students LEAD the team, ensure they develop real-world leadership and communication skills that they will use in every aspect of adulthood whether they go straight into the workforce or further study.
On Tuesday 2 May and Wednesday 3 May, at their year level assembly, our Year 9 and 10 students listened to a presentation about this wonderful opportunity from a representative from World Challenge, Lexi Maurus.
For those interested Year 9 and Year 10 students and families, a reminder we are holding an information evening on Thursday 11 May commencing at 6.30pm in the theatrette on the Senior Campus.
Learn more about the World Challenge Ethos of student-led expeditions here
The expedition is preceded by a training and preparation program, during which students play a major role in planning their own itinerary which includes:
· Project work in a local community
· A challenging trek
· Rest and Relaxation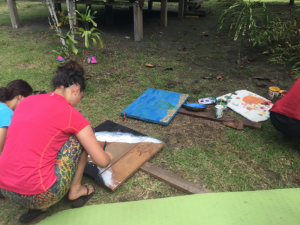 Please read below for the perspectives from three of our current Year 12 Leaders, who went on World Challenge last year, Sam Konig, Abbie Rose and Sonia Birch:
Sam Konig Team 2:

My trip to Nicaragua and Costa Rica with World Challenge was one I was apprehensive
about initially, though once I left the comfort of home, I experienced one of the most life-changing, wonderful experience of my life. Beginning the trip, we had to complete practise hikes and train for the endurance and climate change we were going to live in for a month. Our group left Melbourne, then went through the lengthy flights to Nicaragua, and before we knew it we were on the other side of the world and in a completely different culture and environment than to Australia. Throughout our trip we completed many hikes, enjoyed some activities, and learnt skills that were all the harder in a country that speaks a foreign language, such as buying food, booking our hostels and transport, and communicating with the surrounding community. Though treks we went on were physically enduring, having hiked the Mombacho Reserve, Conceptión and Cerro Ena, it was an amazing experience, seeing breath-taking views and beautiful scenery, pushing us all mentally and physically, now letting us have unique memories. Throughout the trip we also got to help a community in Costa Rica, Doz Brazos Rio El Tigre, which had been effected by a landslide and needed repair, such as a new waterway system from the damage of the landslide. Our efforts along with the money we fundraised, abled the town to have a new water system and be cleaned up. Meeting the community and playing with the local school children impacted me positively, as I want to go volunteer more around the world and experience different cultures. The whole experience, though was very difficult and stressful at times, resonates deeply with me and has changed my life, leaving me with a wonderful memoir I will have forever.
Abbie Rose Team 1:

I decided to go on World Challenge as it was highly recommended by my friends who had gone before and stated as "the most memorable and incredible experience you'll ever have" which now after participating, I completely agree with. My only other overseas experience was to Japan which is very similar to Australia in terms of lifestyle so visiting a developing country was definitely a shock. I remember arriving in Granada, Nicaragua late at night in 90% humidity, exhausted, only to walk into our hostel room and discover there was only one fan for a room of 6 girls. Even though this was seen as unfavorable, we all took it as a challenge and knew that this was only the beginning of a series of obstacles we'd need to overcome. It taught me to appreciate and be grateful for the things that we take for granted such as hot water and a thick mattress. The most challenging part of the trip physically was definitely climbing 5 volcanoes in 5 days as every day you were sore from the day before which made it harder and harder, but I will never forget the feeling when I finally reached the summit of the last volcano at 5am in the morning. Before the trip I was worried that I wouldn't be able to achieve this so it was amazing to see what I could accomplish with a little perseverance and determination. It was on trek that our team really bonded, supporting one another and being proud of our achievements. Our hard work during trek and our community project was rewarded by a few days of rest and relaxation where we lounged on the beach next to the Caribbean Sea. We participated in white water rafting and swam as a team amongst the rapids as well as kayaking where we were lucky enough to swim with turtles!! This trip taught me so much about myself and the world around us, inspiring me to work hard in year 12 so I can go overseas and volunteer in other developing countries in the future. World Challenge was a life changing adventure and I couldn't recommend it to anyone more.
Sonia Birch Team 1:

Having travelled overseas before, I can safely say that our World Challenge trip to Costa Rica and Nicaragua was the most valuable and rich experience of my life. The name is unmistakable, 'World Challenge', proving to be a test of our ability to communicate, contribute to the community and immerse ourselves in the diverse culture. For me, the most rewarding and compelling experience within the trip was volunteering for the Osa Turtle Project. Meeting the incredibly selfless and dedicated organisers of the project and lending a hand with a small portion of the extensive and ongoing work they do, preserving turtles and wildlife on the beach, was truly eye opening. Together we worked to clean up 8km of beach and then sorted the rubbish to eventually be recycled, a sincerely confronting experience having collected over 15 full bags! It certainly left a lasting impact seeing how damaging our litter can be to the wildlife, but definitely encouraged us to be more conscious of the amount of plastic we use back at home. Every day at dawn and dusk we set out for our beach patrol in which we looked for signs of turtles and turtle hatchings or eggs, learning a lot of facts about the wildlife around Costa Rica. One of the best contributions we made to the community we were in was artwork that is now displayed on the beach, reminding locals to protect their wildlife and not to litter. World Challenge was such a rewarding experience, I hope someday to return to the Osa Turtle Project to continue preserving the precious turtles we have in the world! I will forever cherish the friends I've made and things I've learnt throughout the experience.
Mr Andrew Batchelor
Assistant Principal