Student Voice @ MWSC

Mount Matters Home Group Representatives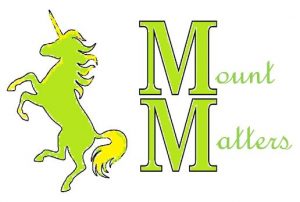 Our Year 11 Mount Matters Home Group Representatives were presented with their badges at this week's Year 11 assembly. The Mount Matters Representatives will meet as a group each fortnight and participate in student-led focus groups, facilitated by our student leaders. They will seek feedback from their Home Group around issues, ideas or concerns relating to the Year 11 student body. Thank you to Ms Helen Calvert and to the Year 11 Leadership Team, in particular to Emma Gilbert, for their work in organising Mount Matters.
11A Dineth Abeysinghe and Tim Taylor
11B Tammy Lin and Min Lee
11C Amy Cavenett, Tammy Hazel and Neve O'Connor
11D Jimmy Chittasorn and Dave Liu
11E Angus Robbins and Jack Strongman
11F James Farmer and Dawn Rothnie
11G Dhruv Chowdhary and Jay Jhamb
11H Maria Fernandez and Max Sotak
11I Joshua Lau and Kevin Choi
11J Lachlan Cabello and Kevin Truong
11K Michael Simmenauer and Sam Srinivas
11L Jeremy Larkin and Scott Fu
11M Corona Zhao and Sheridan Daniels

Hack in a Box
Over the last four weeks thirty students from across Years 8, 9 and 10 have participated in a special program called Hack in a Box. The program presents students with a real-world challenge and encourages students to collaborate and innovate, with the aim of educating Australia's next generation of entrepreneurs. You can read more about HIAB here: http://www.hackinabox.com.au
Thank you very much Chester Ngan (2016 Captain) and Netania Lim (2015 Prefect) who return to the college each Friday afternoon and have volunteered their time to facilitate this program.
Monash All School Leadership Program
Each year we have the opportunity to send two Year 10 students to the Monash Council All School Leadership Program. The program aims to develop students' knowledge, skills and confidence in group development, leadership styles, conflict resolution, effective communication, public speaking and project management. Participants engage in a variety of practical challenges giving them opportunities to apply their new skills and experiment with different leadership styles. Students explore a range of different ways they can stand up and make a difference in their community. This year the program will run from Monday 1 to Friday 5 May at the Clayton Community Centre. Students who are interested in applying should email Miss Dureau dur@mwsc.vic.edu.au
College Captains and School Council
On the evening of 16 March our College Captains Neha Salahuddin and Campbell McGown, and Deputy Captain Feyla Anja attended their first College Council meeting. We are proud to have our College Captains and Deputy Captains represent student voice on our council. We are also very proud of their ability to balance their responsibilities as Captains with their school work, and very much appreciate them giving up their time to attend meetings outside of school hours.
Deputy Captain Feyla Anja – out and about in the community!
Our Deputy Captain Feyla Anja has had a very busy few weeks! On Tuesday 28 February Feyla facilitated a Student Voice Workshop for VicSRC at the Bastow Institute in North Melbourne, and on Thursday 2 March Felya met with the Minister for Education, Mr James Merlino. On Wednesday 8 March Feyla was invited to speak on a panel at an International Women's Day Morning Tea hosted by the Department of Education, and after speaking on the panel she attend the first DET Education State Guiding Coalition meeting in the afternoon. Feyla has been incredibly busy advocating for student voice, all while keeping up with her school work! Well done Feyla – we are very proud of you! Read about Feyla at VicSRC here
VicSRC Student Voice Workshop
On Thursday 30 March four of our Year 10 student leaders will be attending a VicSRC Student Voice Workshop (formerly Regional Conferences) at Templestowe College with Ms Kaye Gibson, Leader of Middle School. VicSRC workshops enable students and teachers to work together on common issues and drive positive change in schools, communities and the education system.

UN Youth State Conference
Year 12 Prefects Janan Shareef and Michael Freethy represented the college at the UN Youth Victoria State Conference on 10-13 March at Lord Somers Camp. Janan and Michael engaged in thought provoking debate and in-depth conversations on important global issues and challenges that are happening right now. Over 100 Year 10-12 students from across Victoria came together to meet like-minded people and engage with some of the biggest global challenges facing their generation. Read about their experience here
Meet our Prefects!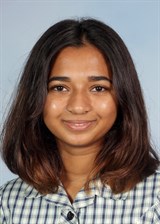 My name is Janan Shareef. I was born in the Maldives where I grew up and I came to Australia in Year 9 as an International Student. I'm currently studying Literature, Global Politics, Further Mathematics, Physics and Chemistry and I completed Year 12 Biology in Year 11 last year. My favourite subject is Physics because I like understanding how the world around us works. After Year 12 I would like to go to university to study Engineering. I have a lot of great memories from my time at MWSC but I think my favourite would be my World Challenge expedition to Costa Rica and Nicaragua. My hobbies are spending time with friends, changing my hairstyle, travelling and reading. I joined the leadership team because my cohort is like a (very big) family and I want to make sure everyone's views are represented within the leadership team and I want to inspire fellow students to follow their dreams and give everything their best shot. I'm passionate about STEM (Science, Technology, Mathematics and Engineering), especially the role of women since there is such a huge gap in the ratio of genders in the field.
My advice to younger students is to take part in any activity that sparks your interest because you never know how you really feel about something until you try it out.
Meet our Year 9 Leaders!
Congratulations to the following 16 students who have been selected as part of the Year 9 Student Leadership Team:
Aahana Nandwani
Amanda Molinari Ortiz
Andre Britavsky
Gautam Apte
Harvey Grieve
Jack Davis

Jennifer Clarke
Jesse Jovellan
Jinmao Du
Lina Vu
Lucas Bouyer
Lynn Li Gan
Mikael Sutiono
Pathum Udugampala
Thu Hoang Bach Nguyen
Yadukulan Balashanmugan
Alex Malley Masterclass
On Wednesday 22 March forty of our Student Leaders from Years 9-12 attended a Leadership Masterclass with Alex Malley, CEO of CPA Australia at the CPA Head Office in Southbank. This amazing opportunity was part of the Halogen Foundation's National ATLAS prize that was won by our student leaders in 2016. Thank you to Assistant Principal Mr Batchelor and Business Manager Mrs Kari Simmons for accompanying the students.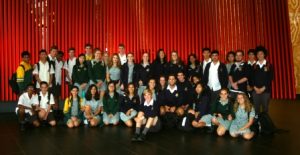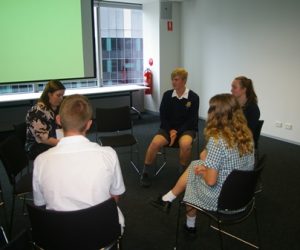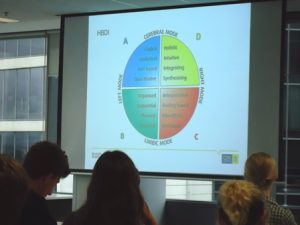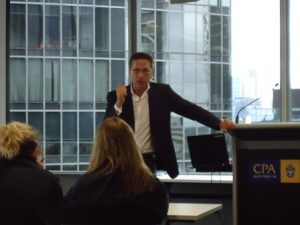 Miss Hayley Dureau
Leading Teacher – Head of Student Voice