Excursion to Clayton North Primary School
We went to Clayton North Primary School on the 17 March. We helped teaching Japanese and taught children how to make a cup, "Kabuto" and "Pakkun" with Origami.
First, we had two classes of 5 year old children. They were speaking Japanese in a cheerful voice. We played some games; a Japanese version of "head shoulder knees and toes" and "make a circle". I didn't know there was a Japanese version of "Head shoulder knees and toes". During the "pass a parcel" game, when the music stopped, a person who was holding a stuffed toy had to go the place called "jail".
After games, Minami students taught children how to make a cup and "Kabuto" with Origami. It was difficult to teach 5 year old children. Even though folding origami was a fine task, the children of both classes tried hard and asked us many questions. When we praised them, their eyes were shining. We did "janken" (rock, paper, scissors) and we gave them origami presents.
During recess Mrs Aki showed us around the school. We were surprised, because there were classrooms for specialist science class with 3D printers and planetarium. We did not learn specialist science in primary school. The school also has EAL classes. Ninety percent of the students make English the second language.
I hope that they will be able to speak Japanese fluently. This experience gave us a lot of stimulation.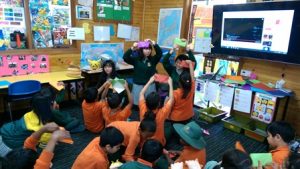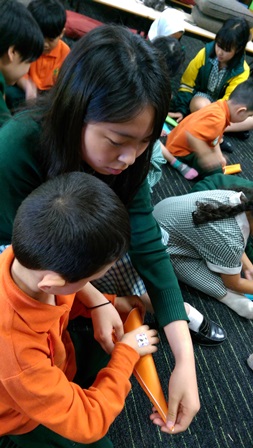 By Kanon Honda, Year 10
---
Year 12 EAL Medea Performance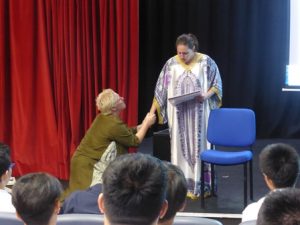 On Tuesday 14 March, two actors from 'Page to Stage' brought to blood-curdling life for our EAL students, key excerpts from 'Medea': Euripides' play of hubris, betrayal, revenge, and infanticide. The actors combined the presentation of key scenes with character analysis and discussion of themes and concepts. The audience put to good use the opportunity to raise ideas about the play and also to consider, as well as to challenge the interpretations of character and storyline presented by the actors. Murderous and dramatic, but also interactive, educational and of great value to our students!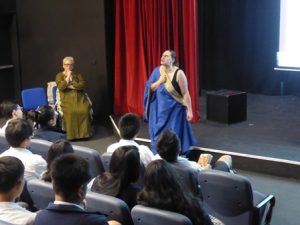 Ms Nicolazzo
EAL Coordinator