MIDDLE SCHOOL NEWS
Welcome back to our Middle School, students and families. It is great to see our students return to school re-energised and motivated to learn. A further welcome is extended to our new families who have recently joined our school community.
As a new member of the Mount Waverley Secondary College community this year I have truly enjoyed the warm welcome I have received from the staff, parents, and certainly the students.
Our focus for 2017 is 'celebrating student success'. On a daily basis our students experience success within the classroom, within the college, and within the community. Over the duration of the first week I have had the opportunity to address the Middle School students about the importance of celebrating success and being proud of their achievements. I am sure you will agree there are clearly lots to be proud of, and build upon, as we strive to continually enhance the learning culture of Mount Waverley Secondary College.
Throughout 2017 a number of opportunities will be provided to our students to help them develop as a learner, but more importantly as a person. Classroom and extracurricular activities will focus on instilling our college values: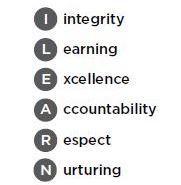 Week 3 is an exciting week for our students. Our Year 10 students will be attending camp at Phillip Island, whilst our Year 9 students will take part in the 'Inspire Program' delivered here at the college. Camps and extracurricular programs are an integral component of every student's educational journey. We encourage all students to immerse themselves in the activities provided, and challenge them to step out of their comfort zone. The Middle School team would like to thank all parents for supporting both of these programs. Information regarding the programs can be found on Compass, please feel free to contact the respective Year Level Coordinators with any concerns or queries you may have.
Year 9 Coordinators:     Mrs Kate Reichman and Ms Katie Radak
Year 10 Coordinators:   Mrs Glenda Splat and Mr Angus Krezel
The Middle School team is looking forward to a successful and enjoyable year ahead.
Ms Lisa McKiernan
Head of Middle School