ASSISTANT PRINCIPAL'S REPORT
Welcome to 2017
A warm welcome back to all students, parents and staff to the 2017 school year at Mount Waverley Secondary College. In particular, to all new students and families commencing at the college, including our Year 9 students who are new to the Senior Campus and our new Year 7 students.
I am really excited to be a member of this great college community and look forward to sharing in our learnings and development together this year. I have previously been an Assistant Principal at two other secondary schools, and enjoyed the experience being an Acting Principal at another school in Term 3 last year. Part of my role as Assistant Principal is to lead work around Community Engagement, which is a great opportunity for us to further improve and strengthen what we do. I look forward to continuing to get to know you and working together as a community to improve educational learnings for all us.
College Values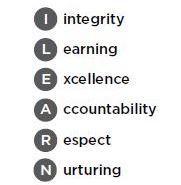 Our College Values are extremely important in providing guidance as to how we act and demonstrate these in our behaviours and learnings each day. Being a new member of the college community, it is something that resonates with me in my reflections as to how I am role modelling these to members of our college community. I encourage you to also reflect on how you are demonstrating these values and what they look like in action.
Spirt of ANZAC Award
Later in this edition of College News there is an article – Premier's Spirirt of ANZAC Prize 2016-17. I congratulate these students on their achievement.
Year 9 Program and Year 10 Camp to Phillip Island
• Next week (Week 3) from Wednesday 15 February to Friday 17 February, all of our Year 9 students will participate in a special program on the Senior Campus aimed at improving their learning and development.
• Our Year 10 students will be attending camp at Phillip Island to further develop themselves and their leadership.
It is wonderful to hear of such great learning opportunities for our students and I look forward to being part of both of these activities.
Mr Andrew Batchelor
Assistant Principal